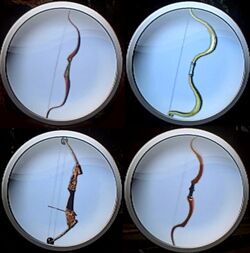 This category tags images of bonus award emblems for archery bows awarded for victories in Champions Cup mode Archery sporting event. This emblem is displayed when the bow is earned.
Sports Champions play begins with each competitor having a standard Competition Bow. Victories (or other achievements) in Champions Cup play, can unlock additional custom bows. Defeating Tatupu in the 5th round of the Bronze cup, by any margin, unlocks the "Crescent bow". Defeating Tatupu in the 5th round of the Silver Cup unlocks the "Split bow". Defeating Tatupu in the 5th round of the Gold Cup unlocks the "Compound bow". Defeating the hidden archery master, Morgrimm, in the final bonus (11th) round of the bonus Champions ("Platinum") Cup Tournament unlocks Morgrimm's bow. Losing three Champions Cup matches in a row earns "Cupid's bow" as a booby prize.
| | | | |
| --- | --- | --- | --- |
| | | | |
| Crescent Bow | Split Bow | Compound Bow | Cupid's Bow |
| 5th round Bronze | 5th round Silver | 5th round Gold | 3 straight losses |

A player can cycle through the choice of bows for the match by pressing the
X
button on the Move controller at the character selection screen before play begins. Once unlocked, the bow is available to any of the character avatars in any
Archery
play mode: Champions Cup, Free Play, or Challenge mode.
Choice of bow does not affect shooting speed, range or accuracy; it is cosmetic only.
All items (4)
Community content is available under
CC-BY-SA
unless otherwise noted.