Frankie "Fat Fingers" Moretti

Gender:
Male
Age:
51
Height:
162 cm / 5' 4"
Weight:
104 kg / 230 lbs
Home:
Sicily, Italy
Favorite Sport:
Bocce
Strengths:
Accuracy, Strength
Frankie "Fat Fingers" MorettiEdit
Small in height but large in stature, Frankie puts on a front of appearing to be a cool, collected, "cool guy" when he's really just a short tempered sore loser. Sensitive to a fault, he's now compensating for a childhood of fear and ridicule, due to his physical deficiencies, by bossing others around.
This "Fat Fingered" Don has taken to the game of Bocce as a way of doing business and settling disputes with others in a more relaxed environment. Not exactly a good loser, those that beat Frankie in a "friendly" game are bound to be "dealt with" in a timely manner.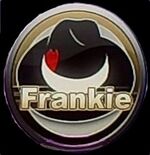 Frankie is a bonus avatar for the Sports Champions game of Bocce. He is first encountered after winning the Gold Cup in Champions Cup play, as a special bonus round. By defeating Frankie in that bonus Bocce match, the avatar is unlocked for player use in all sports champions events.